RLSS Life Saving
At infinity Swim Academy we use our extensive knowledge and experience of water safety and training to deliver a comprehensive range of vocational Life Saving qualifications, awards and programmes which have the ultimate aim of preventing drowning and stopping unnecessary loss of life.
infinity RLSS Rookie Lifeguard
RLSS Rookie Lifeguard programme gives your child the skills they need to be confident in the pool or the sea – which means peace of mind for you. With colourful materials and fun, varied activities, the Rookie Lifeguard scheme teaches children how to swim and enjoy the water safely, whether in shallow or deeper water.
About the programme
Built into the programme are lessons in valuable survival, rescue and sports skills. All delivered in an exciting way that will get children involved and motivated. The course can run parallel to your child's current swimming lessons and will also enhance the skills they learn in the pool.
For many of our Rookie Lifeguards, our programme offers the first opportunity to explore water safety, gradually gaining independence and confidence while learning vital life skills. Our programme will inspire and embolden your child, helping them keep themselves, their friends and their family safe in the water through a range of fun activities that lead towards a series of awards. Though the skills learned through the course of the programme are just as valuable to people of all ages. The scheme begins with Stage 1 of the Bronze Award and progresses to Stage 3 of the Gold Award, starting off at an ability level suitable for brand-new swimmers and progressing to the level where our infinity RLSS Rookie Lifeguards perform impressive lifesaving tows.
Even the shyest kids find they make new friends through the Rookie Lifeguard scheme, as teamwork and peer support are crucial elements of the programme.
infinity RLSS Rookie Lifeguards runs weekly and is offered as a drop-in or block booking.  Children are assessed once they have met the 12-week attendance quota.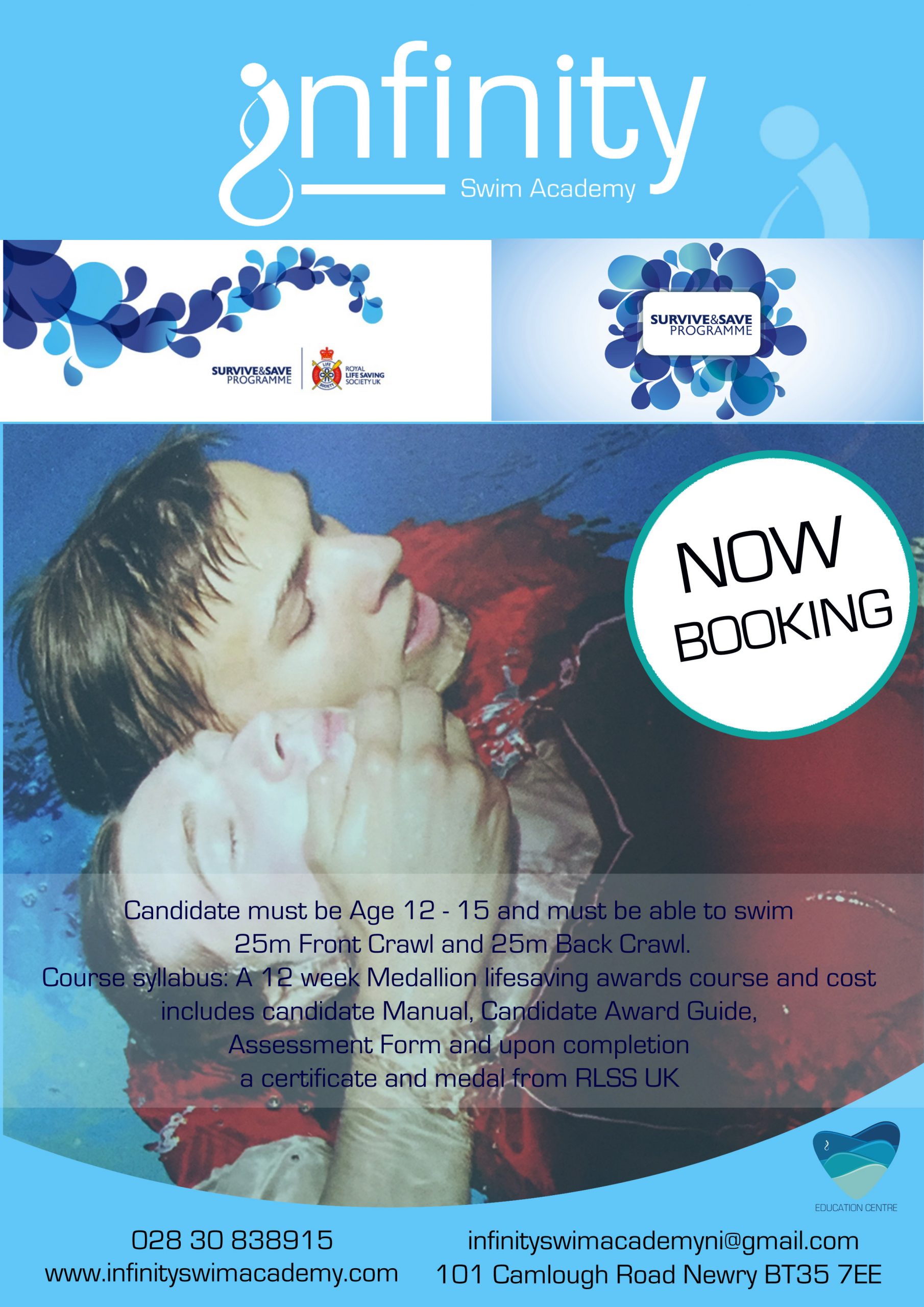 infinity RLSS Swim Survive Save
The infinity RLSS Swim Survive Save Programme is our lifesaving award scheme for anyone aged 12 years and over. The awards are challenging but fun to complete. These awards are arranged into Bronze, Silver and Gold levels to ensure that participants get the opportunity to develop their lifesaving skills as they progress through the awards.
The infinity RLSS Swim Survive Save programme is a series of awards that challenge and develop your skills and knowledge in aquatic survival, rescue, sport, and fitness. There are three awards: The Medallion Lifesaving Awards Bronze, Silver and Gold, ensuring that by the time you have completed the Gold Medallion, you will have been comprehensively trained in lifesaving.
Course entry essentials
Candidate must be Age 12 and over.
Candidate must be able to swim 20m Front Crawl and 20m Back Crawl.
Course content
Course content includes CPR (resuscitation), water safety, self-rescue, survival, rescue, and lifesaving sport skills, giving candidates essential life skills and helping to develop fitness.
GCSE  Personal Survival
infinity Crew can continuously assess a candidate for GCSE personal survival in the following areas.  Using appropriate strategies and tactics to facilitate efficient and effective performance, such as the emergency action model, water safety, survival priorities and self-rescue techniques.  Demonstrating a range of skills in a safe, effective and efficient performance with increasingly demanding situations though structure practice and simulated emergency. Physical fitness demands, attitudes and behaviours, rules and health and safety.
The candidate will be assessed at infinity Swim Academy.
National Water Safety Management Programme
About the programme
NWSMP
Relevant to a wide range of sectors, including teaching (field trips), construction, environmental health, leisure and the emergency services
Fulfils the water safety training needs of a wide range of users (reflecting the range of activities that take place in and around the water's edge)
Endorsed by the Health and Safety Executive for its sensible, proportionate, reasonable and balanced advice to both those responsible for groups around the water margin or workers operating in, on or near water and in particular managing the risk from operating around the water margin.
Balancing Prevention and Response
The NWSMP programme embraces contemporary approaches to risk management by balancing the need for simple pro-active safety management practices, with a strong focus on preventative measures – along with effective emergency response skills.
Flexible Modular Framework relevant to a wide range of sectors
The NWSMP is built around a modular framework, enabling employers to construct relevant and bespoke water safety training programmes by selecting modules most suited to their operational and individual needs.
Progressive
The programme starts with Level 1, the Water Safety Awareness Module, which provides the theoretical platform for more advanced modules. Environment Specific Modules cover hazards associated with flood, beach, river and still water as well as basic rescue techniques. The flood module meets DEFRA standards (Module 1 Water Awareness). For anyone requiring more advanced rescue skills, the In-Water Rescue Module covers essential in-water rescue knowledge and tests competency.
Life Support can be bolted on to make a truly comprehensive programme and additional NWSMP modules are being considered to meet the needs of even more employers. The latest edition to the NWSMP family is the Aquatic Personal Protective Equipment (APPE) module, providing in depth guidance on a selection of appropriate APPE and correct use, including commercial lifejackets.
The NWSMP is a RLSS UK certificated award. Level 1 includes a self study pack and a four hour guided learning unit. Each Level 2 and Level 3 Module involves three hours of training. The duration of the course will depend on modules taken but a typical programme, covering Level 1, two Level 2 Modules and Level 3 requires 2 days of training.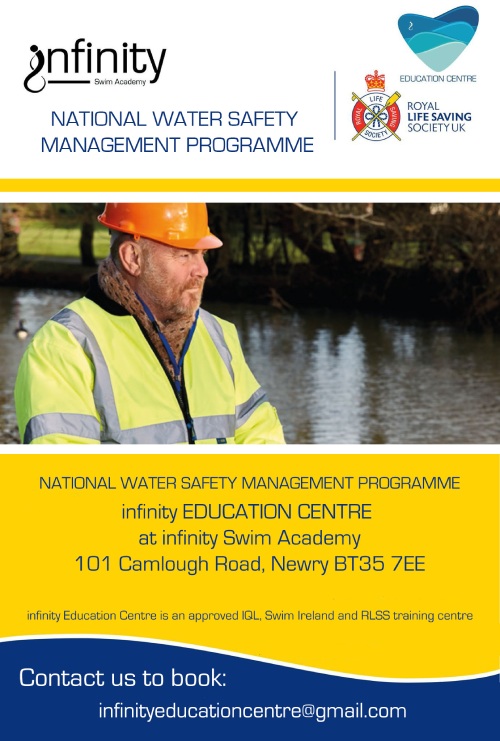 The aims of the NWSMP are to:
Equip anyone working in, on or near water with essential knowledge and skills to make informed decisions about managing safety
Enable group leaders to deliver safer activity at open water sites
Develop occupational water safety skills for employees working around the water margins
Facilitate compliance with Statutory and Civil obligations, especially the Health and Safety at Work Act 1974 with related regulations and covering Safe Systems of Work
Develop effective Emergency Response Skills for those working in a water-based environment
Supporting Employers - Protecting Employees
RLSS UK has developed the National Water Safety Management Programme (NWSMP) to provide a flexible occupational water safety management training solution for a wide range of employers who require their workforce to operate safely in or near water.
The NWSMP programme is a key step forward in helping employers meet their civil and statutory water safety management obligations, especially where employees have supervisory responsibilities in or near water. Many people working near the water margins receive minimal or no water safety training due to water safety training often taking a back seat compared to more traditional and recognised health and safety training. Through consultation with industry and lead bodies, RLSS UK has identified this gap in water safety training provision and launched NWSMP to close the gap, improving water safety across a wide range of working environments and operational sectors.
The NWSMP is as relevant to a school teacher as it is to a member of the emergency services, countryside ranger, construction worker or outdoor pursuits instructor.
The Programme has been endorsed by the Health and Safety Executive, Outdoor Education Advisory Panel, Expedition Providers' Association and was developed in close consultation with a number of relevant and key leading bodies including:
Health and Safety Executive
Expedition Providers' Association
Royal Geographical Society (with IBG)
Devon & Cornwall Police
Institute of Outdoor Learning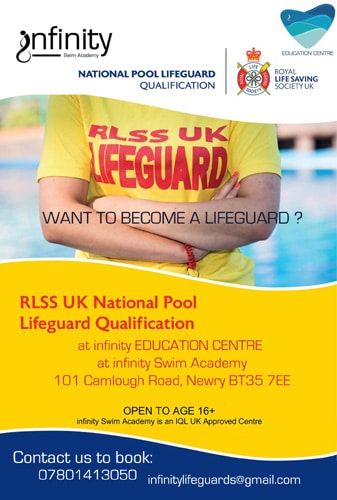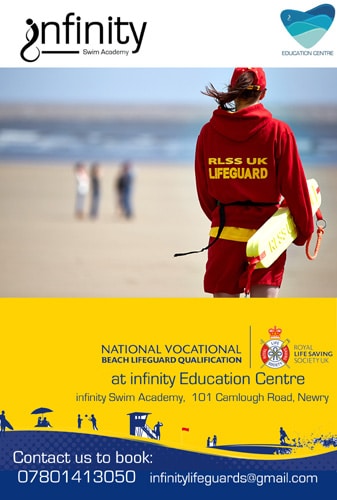 Learn 
infinity LIFEGUARD Courses
Office
Unit 1, 101 Camlough Road, Newry, Northern Ireland, BT35 7EE