RLSS Life Saving
At infinity Swim Academy we use our extensive knowledge and experience of water safety and training to deliver a comprehensive range of vocational Life Saving qualifications, awards and programmes which have the ultimate aim of preventing drowning and stopping unnecessary loss of life.
infinity RLSS Rookie Lifeguard
RLSS Rookie Lifeguard programme gives your child the skills they need to be confident in the pool or the sea – which means peace of mind for you. With colourful materials and fun, varied activities, the Rookie Lifeguard scheme teaches children how to swim and enjoy the water safely, whether in shallow or deeper water.
About the programme
Built into the programme are lessons in valuable survival, rescue and sports skills. All delivered in an exciting way that will get children involved and motivated. The course can run parallel to your child's current swimming lessons and will also enhance the skills they learn in the pool.
For many of our Rookie Lifeguards, our programme offers the first opportunity to explore water safety, gradually gaining independence and confidence while learning vital life skills. Our programme will inspire and embolden your child, helping them keep themselves, their friends and their family safe in the water through a range of fun activities that lead towards a series of awards. Though the skills learned through the course of the programme are just as valuable to people of all ages. The scheme begins with Stage 1 of the Bronze Award and progresses to Stage 3 of the Gold Award, starting off at an ability level suitable for brand-new swimmers and progressing to the level where our infinity RLSS Rookie Lifeguards perform impressive lifesaving tows.
Even the shyest kids find they make new friends through the Rookie Lifeguard scheme, as teamwork and peer support are crucial elements of the programme.
infinity RLSS Rookie Lifeguards runs weekly and is offered as a drop-in or block booking.  Children are assessed once they have met the 12-week attendance quota.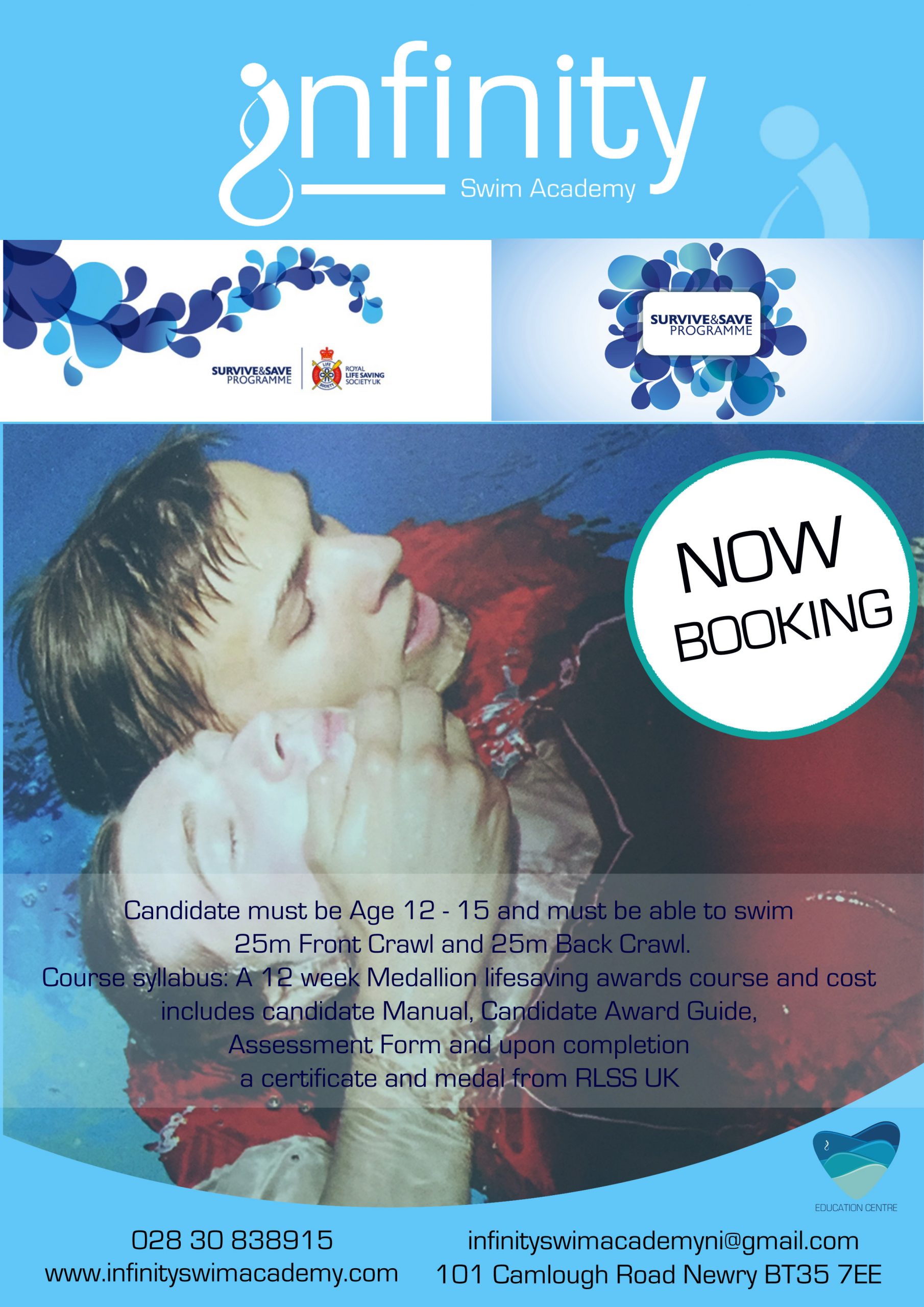 infinity RLSS Swim Survive Save
The infinity RLSS Swim Survive Save Programme is our lifesaving award scheme for anyone aged 12 years and over. The awards are challenging but fun to complete. These awards are arranged into Bronze, Silver and Gold levels to ensure that participants get the opportunity to develop their lifesaving skills as they progress through the awards.
The infinity RLSS Swim Survive Save programme is a series of awards that challenge and develop your skills and knowledge in aquatic survival, rescue, sport, and fitness. There are three awards: The Medallion Lifesaving Awards Bronze, Silver and Gold, ensuring that by the time you have completed the Gold Medallion, you will have been comprehensively trained in lifesaving.
Course entry essentials
Candidate must be Age 12 and over.
Candidate must be able to swim 20m Front Crawl and 20m Back Crawl.
Course content
Course content includes CPR (resuscitation), water safety, self-rescue, survival, rescue, and lifesaving sport skills, giving candidates essential life skills and helping to develop fitness.
GCSE  Personal Survival
infinity Crew can continuously assess a candidate for GCSE personal survival in the following areas.  Using appropriate strategies and tactics to facilitate efficient and effective performance, such as the emergency action model, water safety, survival priorities and self-rescue techniques.  Demonstrating a range of skills in a safe, effective and efficient performance with increasingly demanding situations though structure practice and simulated emergency. Physical fitness demands, attitudes and behaviours, rules and health and safety.
The candidate will be assessed at infinity Swim Academy.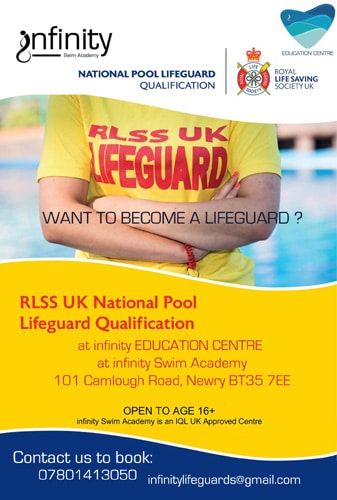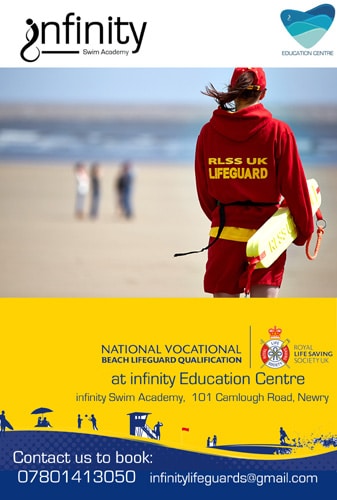 Learn 
infinity LIFEGUARD Courses