Welcome to infinity Swim Academy
Start your journey into the amazing world of water.
A SWIM IRELAND Flagship Centre           Learn Here Swim Anywhere
Approach
Professional Swimming Services & Courses
We will advise you what level you or your child will be offered lessons at so you can then register and log in to our infinity Swim Academy home portal to start to book lessons from the schedules available.
Interested in any of the Courses.
Begin the Classes Immediately
infinity Swim Academy's mission is to develop your swim ability to its full potential; resulting in all participants learning to swim and gaining water safety knowledge through the most enjoyable swimming lessons.
Ready to Begin ?
Join Now
Values
infinity Core Values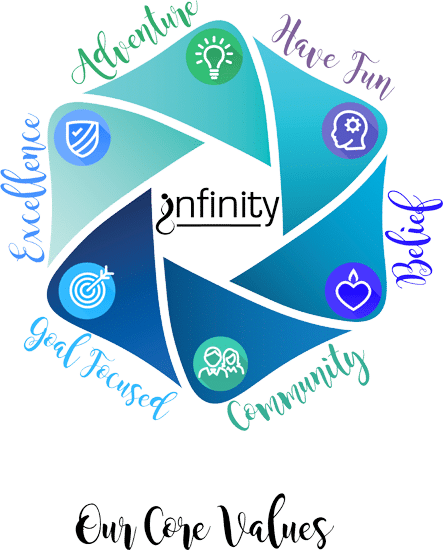 To be the leading centre of excellence in pool and open water swim teaching and coaching locally, regionally and globally. 
Through our passion, commitment and dedication to provide the best learning experience for all ages and abilities, to instil in our members a lifelong love of swimming and to inspire our members to Believe BIG, Achieve BIG all grounded in our ethos 'Learn Here Swim Anywhere'.
To provide the highest quality swim teaching and coaching in a safe, fun environment while ensuring the best experience for students, parents and crew.
To provide the fundamentals that will lay the skill foundation for technically sound, strong, confident swimmers encouraging and inspiring them to swim 'Learn Here Swim Anywhere' 
To make every visit to infinity an enjoyable one by taking a personalised approach to the learning experience of each and every member. 
To support our teaching, coaching and water safety crews with the highest quality up-to-date teaching methods and practices.
Through our Learn To Swim Programmes, our Peak Performance Coaching, our Life-Skills Training Programmes and our Channel Swimming to inspire and empower our members to achieve their full aquatic, athletic and personal potential.
To build strong connections with swimming and all sporting communities locally and globally for the benefit of our members and our local community.
Partners
infinity Partners
TESTIMONIALS
What People Are Saying
Peter-Ray had his first baby swim class at Infinity Swim Academy with Bridgeen Mallon. She was fabulous with the children and us parents. I couldn't believe how much fun Peter -Ray had completing all the tasks and there was great covid safety measures in place I couldn't recommend it enough. 
Office
Unit 1, 101 Camlough Road, Newry, Northern Ireland, BT35 7EE